Associate Professor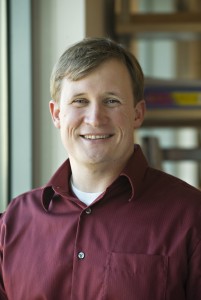 Personal Education
University of California, Berkeley
Ph.D., Biophysics, 2002.  Thesis:  Structural Investigations of Light-driven Ion Pumping:  X-ray Crystallography of Bacteriorhodopsin and the Asp85Ser Mutant, Mentor: Dr. Robert Glaeser
University of California, Davis
B.S., Biochemistry, 1997.
Awards
2010 Young Alumnus Award Cal Aggie Alumni Association
ASUCD Excellence in Education Award
Research Interests
Our laboratory is interested in understanding how structures and dynamics of gene regulatory networks have evolved to regulate complex phenotypes. We focus primarily on microbial systems due to the relative simplicity of microbial genomes, which allow us to interrogate complex processes across a wide range of levels of cellular complexity (e.g. from single proteins to comprehensive systems-level analysis). We aim to develop tools that will allow the rational engineering of gene regulatory networks at both the protein and network-structure levels, and have application across species boundaries.
Contact
5312 Genome and Biomedical Sciences Facility
Phone: 530-752-3781
Email: mtfacciotti@ucdavis.edu
If you are interested in asking Marc for a letter of recommendation, please first read these guidelines.